/// Unique Melody Miracle Six Driver Custom In Ear Monitors: Discontinued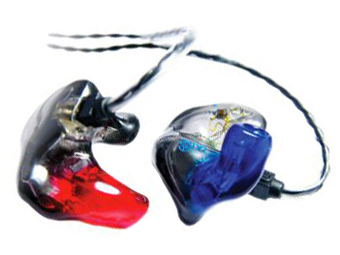 Everyone needs a flagship. A hero. A number one stunner. We call ours the Miracle. We've taken everything we learnt in the development of our entire lineup and picked out what we loved to create an in ear monitor we would be proud to call our best. And boy are we proud of it.
Offering six balanced armature drivers per side, the Miracle offers astounding detail and clarity from high to low, with just the right amount of fun. Don't expect any noticeable bumps throughout the frequency range though, the Miracle represents the epitome of the Unique Melody house sound. Clarity, accuracy, liveliness and detail.
If you love your soundstage and instrumental separation, the Miracle is wide and tall without sacrificing placement, again, accuracy is key. Loved by people from all walks of life, from sound engineers to the most nit picking audiophiles, the Miracle offers a true pinnacle of in ear monitoring. We are well and truly pleased to stand by it as our flagship. If it is within your reach, we promise you, you won't be disappointed.
For the Unique Melody Merlin you will need to have ear impressions, these will need to be made by an audiologist and are not included in the price.
| | |
| --- | --- |
| /// Frequency Response: 18 - 19,000 Hz | |
| /// Impedance: 15.9 Ohms | |
| /// SPL (1 kHz): 114 dB | |
| /// Drivers: Six Balanced Armature Drivers | |
| /// Driver Config: 2x High, 2x Mid & 2x Low + 3-Way CrossOver | |
| /// Cable: Detachable 50" Braided | |
| /// Jack Plug: 3.5mm Gold Plated | |
| | |
| --- | --- |
| /// Model: Unique Melody Miracle, Case and Wax Cleaning Tool | |
| /// Quality Checking of Ear Impressions: ✔ | |
| /// Cost of Shipping Impressions to Manufacturer: ✔ | |
| /// Cost of Shipping Completed IEMs from Manufacturer to Us: ✔ | |
| /// Taxes, Duty & UK Customs Handling Charges: ✔ | |
| /// Bank Fees for International Payment: ✔ | |
| /// Cost of Shipping Completed IEMs from Us to You: ✔ | |
| | |
| --- | --- |
| /// Faceplates: Choice of Colours for Both Sides | |
| /// Shells: Choice of Colours for Both Sides | |
| /// Tips: Choice of Colours for Both Sides | |
| /// Logo: Unique Melody, Complex or UM Logo (if required) | |
| /// Initials: 3 Alphanumeric Characters on Shells (if required) | |
| /// Cable: Black or Clear Detachable 50" Braided | |
| /// Cable Sockets: Recessed, Flush or Extruding | |
| | |
| --- | --- |
| /// 64" Cable: +£12 | |
| /// Titanium Sheeting: +£40 | |
| /// Carbon Fibre: +£90 | |
| /// Genuine Wood: +£90 | |
| /// Basic Mono Artwork: +£30 | |
| /// HD Mono Artwork: +£40 | |
| /// HD Full Colour Artwork: +£90 | |
| /// Custom Metallic Insterts: +£90 | |
| | |
| --- | --- |
| /// Option 1: As the home of custom in ear monitors in the UK you could visit us at our offices in Hertfordshire and we could make your ear impressions or | |
| /// Option 2: We have a mobile service that covers London, Hertfordshire, Essex, Cambridgeshire, Bedfordshire and West Suffolk or | |
| /// Option 3: Contact us so that we can put you in touch with your nearest UK audiologist or | |
| /// Option 4: If you are a band or group of musicians that require multiple IEMs and ear impressions please call us as we are able to offer package deals, our coverage area for this extends to most parts of England | |