/// ACS Custom Evoke Studio Single Driver Custom In Ear Monitors: £249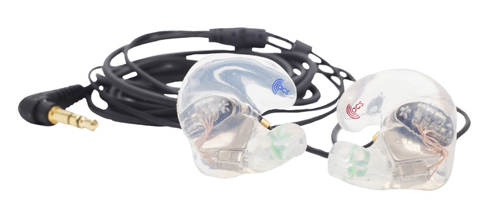 ACS have completely re-engineered their single speaker custom in ear monitors to replace their very first model, the T3. The ACS Evoke Studio features 2 different detachable cable system options, low profile, full-concha, custom fitted soft silicone earpieces and a brand new hybrid speaker that delivers a much wider response along with punchy low end bass.
Theyíve taken the innovative Knowles Acoustics developed hybrid speaker system, applied some ACS Custom magic and ended up with custom in ear monitors that match other manufacturers IEMs sold at a much higher price. Just because itís priced so keenly donít think that itís any less of a product than their more sophisticated models.
The ACS Evoke Studio is a very credible entry level set of custom in ear monitors aimed at those on a tight budget who either want to enter the world of in ear monitoring.
For the ACS Evoke Studio you will need to have ear impressions, these will need to be made by an audiologist and are included in the price.
*
Note: Image is for illustration purposes only.
| | |
| --- | --- |
| /// Frequency Response: 20 - 20,000 Hz | |
| /// Impedance: 50 Ohms | |
| /// SPL (1 kHz): 105.5 dB | |
| /// Drivers: Single Balanced Armature Driver | |
| /// Driver Config: 1x Full Range | |
| /// Cable: Detachable Linum BaX | |
| /// Jack Plug: 3.5mm Gold Plated | |
| | |
| --- | --- |
| /// Model: ACS Evoke, Revivo Case, Soft Case and Wax Cleaning Tool | |
| /// Ear Impressions: ✔ | |
| /// Cost of Shipping Impressions to Manufacturer: ✔ | |
| /// Cost of Shipping Completed IEMs from Manufacturer to You: ✔ | |
| | |
| | |
| | |
| | |
| | |
| --- | --- |
| /// Mould Type: Canal or Full Bowl | |
| /// Mould Colour: Choice of Standard Colours for Both Sides | |
| /// Cable: Detachable - Top or Bottom Exit | |
| /// Cable Length: 110cm | |
| | |
| --- | --- |
| /// Colour Upgrades: +£10 | |
| /// Upgrade Colours: Champagne | |
| /// Live! Version: +£50 | |
| | |
| | |
| | |
| --- | --- |
| /// Option 1: As the home of custom in ear monitors in the UK you could visit us at our offices in Hertfordshire and we could make your ear impressions or | |
| /// Option 2: We have a mobile service that covers London, Hertfordshire, Essex, Cambridgeshire, Bedfordshire and West Suffolk or | |
| /// Option 3: Contact us so that we can put you in touch with your nearest UK audiologist, we will also send you a pre-paid voucher to take with you to your appointment, this covers the cost of your ear impressions or | |
| /// Option 4: If you are a band or group of musicians that require multiple IEMs and ear impressions please call us as we are able to offer package deals, our coverage area for this extends to most parts of England | |