/// Unique Melody 3DD Triple Driver Custom In Ear Monitors: Discontinued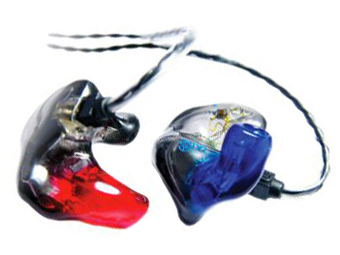 So, UM did six drivers. They built an eight driver and they didn't like it. So they built a hybrid (UM Merlin). That was cool, but where to from here? They built the PP6 and went for a six way amplified BA IEM with the crossover in the DSP. Now what? What else can you do with a Balanced Armature? For the UM 3DD they simply didn't used them, this is their brand new invention. A three way, triple driver, triple bore custom IEM. What's so good about a three way triple you say? There is three DYNAMIC drivers. That's right, 26.5mm of reverberating dynamic diaphragm drivers. Ground breaking, never before have three dynamic drivers been crammed into a custom IEM - The driver configuration will be:
1x 13mm Low, 1x 8mm Mid & 1x 5.5mm High
Obviously they had to think outside of the box a bit for this one. No one made the drivers they wanted so they designed them. Not just one of them. All three. The dynamic drivers gave UM a different set of phase problems to the balanced armature drivers too, so they had to run with a triple bore set up. Oh, did we mention tuneable bass as well?
For the Unique Melody 3DD you will need to have ear impressions, these will need to be made by an audiologist and are not included in the price.
| | |
| --- | --- |
| /// Frequency Response: TBC Hz | |
| /// Impedance: TBC Ohms | |
| /// SPL (1 kHz): TBC dB | |
| /// Drivers: Triple Dynamic Drivers | |
| /// Driver Config: 1x High, 1x Mid & 1x Low + 3-Way CrossOver | |
| /// Cable: Detachable 50" Braided | |
| /// Jack Plug: 3.5mm Gold Plated | |
| | |
| --- | --- |
| /// Model: Unique Melody 3DD, Case and Wax Cleaning Tool | |
| /// Quality Checking of Ear Impressions: ✔ | |
| /// Cost of Shipping Impressions to Manufacturer: ✔ | |
| /// Cost of Shipping Completed IEMs from Manufacturer to Us: ✔ | |
| /// Taxes, Duty & UK Customs Handling Charges: ✔ | |
| /// Bank Fees for International Payment: ✔ | |
| /// Cost of Shipping Completed IEMs from Us to You: ✔ | |
| | |
| --- | --- |
| /// Faceplates: Choice of Colours for Both Sides | |
| /// Shells: Choice of Colours for Both Sides | |
| /// Tips: Choice of Colours for Both Sides | |
| /// Logo: Not available for this model | |
| /// Initials: 3 Alphanumeric Characters on Shells (if required) | |
| /// Cable: Black or Clear Detachable 50" Braided | |
| /// Cable Sockets: Recessed, Flush or Extruding | |
| | |
| --- | --- |
| /// Option 1: As the home of custom in ear monitors in the UK you could visit us at our offices in Hertfordshire and we could make your ear impressions or | |
| /// Option 2: We have a mobile service that covers London, Hertfordshire, Essex, Cambridgeshire, Bedfordshire and West Suffolk or | |
| /// Option 3: Contact us so that we can put you in touch with your nearest UK audiologist or | |
| /// Option 4: If you are a band or group of musicians that require multiple IEMs and ear impressions please call us as we are able to offer package deals, our coverage area for this extends to most parts of England | |