/// Unique Melody Custom Reshells: Discontinued - View New Model Here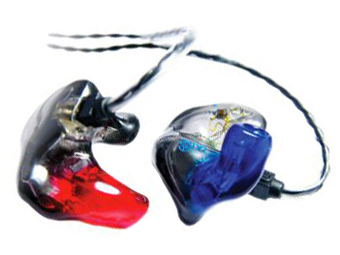 Give life to your old Westone earphones with the Unique Melody reshell and upgrade service. They take apart your earphones and harvest the internal components, placing them within a new custom moulded shell built to the same quality as their own in house monitors. If your earphones are driving you crazy, you donít have to put up with dodgy non replaceable cables or your IEMís falling out mid gig anymore. Re-shelling is your cost effective solution! Ideally suited to anyone who is also fed up with constantly replacing foam tips or has a damaged cable or is simply just struggling to get a good comfortable seal.
If you are chasing that extra bit of sound quality they can also upgrade your earphones with additional drivers and their own in house crossovers. Designed to bring out the best from your original drivers, theyíve spent the time to develop a range of upgrades that will take your earphones and transform them into a new beast.
For the Unique Melody Reshell you will need to have ear impressions, these will need to be made by an audiologist and are not included in the price.
| | |
| --- | --- |
| /// W2: Standard or Triple Driver Upgrade | |
| /// W3: Standard, Quad, Six or Eight Driver Upgrade | |
| /// W4 / W4R: Standard | |
| /// UM2: Standard or Triple Driver Upgrade | |
| /// UM3X: Standard, Quad, Six or Eight Driver Upgrade | |
| | |
| --- | --- |
| /// Model: Unique Melody Reshell, Case and Wax Cleaning Tool | |
| /// Quality Checking of Ear Impressions: ✔ | |
| /// Cost of Shipping Impressions to Manufacturer: ✔ | |
| /// Cost of Shipping Completed IEMs from Manufacturer to Us: ✔ | |
| /// Taxes, Duty & UK Customs Handling Charges: ✔ | |
| /// Bank Fees for International Payment: ✔ | |
| | |
| --- | --- |
| /// Faceplates: Choice of Colours for Both Sides | |
| /// Shells: Choice of Colours for Both Sides | |
| /// Tips: Choice of Colours for Both Sides | |
| /// Logo: Unique Melody, Complex or UM Logo (if required) | |
| /// Cable: Detachable (cable not included) | |
| /// Cable Sockets: Recessed, Flush or Extruding | |
| | |
| --- | --- |
| /// Add 1 Driver to Both Sides: +£100 | |
| /// Add 3 Drivers to Both Sides: +£300 | |
| /// Add 5 Drivers to Both Sides: +£500 | |
| /// 3 Alphanumeric Characters on Shells: +£20 | |
| /// Black or Clear Detachable 50" Braided Cable: +£20 | |
| /// Black or Clear Detachable 64" Braided Cable: +£32 | |
| /// Titanium Sheeting: +£40 | |
| /// Carbon Fibre: +£90 | |
| /// Genuine Wood: +£90 | |
| /// Basic Mono Artwork: +£30 | |
| /// HD Mono Artwork: +£40 | |
| /// HD Full Colour Artwork: +£90 | |
| /// Custom Metallic Insterts: +£90 | |
| | |
| --- | --- |
| /// Option 1: As the home of custom in ear monitors in the UK you could visit us at our offices in Hertfordshire and we could make your ear impressions or | |
| /// Option 2: We have a mobile service that covers London, Hertfordshire, Essex, Cambridgeshire, Bedfordshire and West Suffolk or | |
| /// Option 3: Contact us so that we can put you in touch with your nearest UK audiologist or | |
| /// Option 4: If you are a band or group of musicians that require multiple IEMs and ear impressions please call us as we are able to offer package deals, our coverage area for this extends to most parts of England | |