/// JH Audio Ambient FR Custom In Ear Monitors: Discontinued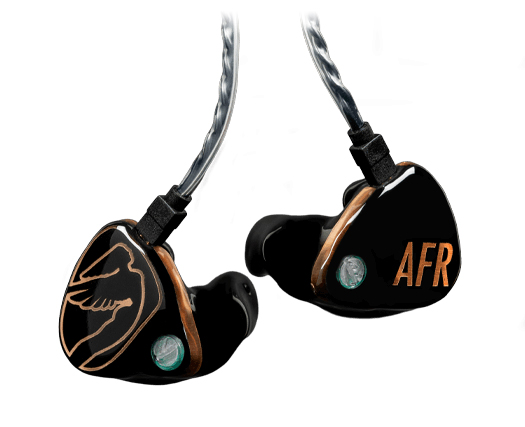 The Ambient FR JH Audio Custom In Ear Monitors with freqphase technology...
For the live performer who doesn't just want to hear everything on stage, they want to FEEL it. The Ambient FR is the first full range response ambient IEM that offers the proper level of attenuation (-15dB) without shrinking the frequency range. Featuring balanced bass tuned for no low end loss, so you get the connection with the audience you so desperately desire while hearing the best audio on the planet.
For the JH Audio Ambient FR you will need to have ear impressions, these will need to be made by an audiologist and are not included in the price, ear impressions will cost no more than £60 and once you've placed an order our online order process will guide you through the next steps for anywhere in the UK.
| | |
| --- | --- |
| /// Frequency Response: 10 - 16,000 Hz | |
| /// Impedance: 16 Ohms | |
| /// SPL (1 kHz): 119 dB | |
| /// Drivers: Eight Balanced Armature Drivers | |
| /// Driver Config: 4x High & 4x Low + 2-Way CrossOver | |
| /// Cable: Detachable Braided | |
| /// Jack Plug: 3.5mm Gold Plated | |
| | |
| --- | --- |
| /// Model: JH Audio Ambient FR, Hard Case and Wax Cleaning Tool | |
| /// Quality Checking of Ear Impressions: Yes | |
| /// 3D Scanning & Storing of Ear Impressions: Yes | |
| /// Cost of Shipping Impressions to Manufacturer: Yes | |
| /// Cost of Shipping Completed IEMs from Manufacturer to Us: Yes | |
| /// Taxes, Duty & UK Customs Handling Charges: Yes | |
| /// Bank Fees for International Payment: Yes | |
| /// Cost of Shipping Completed IEMs from Us to You: Yes | |
| /// Warranty: 2 Years | |
| | |
| --- | --- |
| /// Faceplates: Choice of Colours for Both Sides | |
| /// Shells: Choice of Colours for Both Sides | |
| /// Initials: 2 Characters on Shells | |
| /// Cable: Black or Clear Detachable Braided | |
| /// Cable Length: 48" or 64" | |
| /// JHA Logo Choices: Flygirl, JH Audio, Model, Oversized Flygirl or Outline Flygirl | |
| /// Logo Colour Choices: Various (see below) | |
| | |
| --- | --- |
| /// Full Carbon Fibre Build: +£525 | |
| /// Full Lightning Strike Build: +£625 | |
| /// Oversize or Outline Logo (per side): +£25 | |
| /// Custom Artwork: +£95 | |
| /// Carbon Fibre or Titanium Faceplates: +£95 | |
| /// Glitter Faceplates: +£95 | |
| /// Glitter Shells: +£95 | |
| /// Pearloid Faceplates: +£95 | |
| /// Lightning Strike Faceplates: +£95 | |
| /// Gold or Zebrawood Faceplates: +£95 | |
| /// Rhinestone Faceplates: +£95 | |
| /// Premium Designs: POA - Contact Us | |
| /// Signature Designs: POA - Contact Us | |
| /// Engraved Designs: POA - Contact Us | |
| | |
| --- | --- |
| /// Our Office: Place your order and then select Hertfordshire HQ. | |
| /// London: Place your order and then select London. | |
| /// Rest of the UK: Place your order and then select another town or city. | |
| /// Previous Client: Place your order and then select 3D Scans on File. | |
| /// Mobile: London, Hertfordshire, Essex, Cambridgeshire, Bedfordshire, Middlesex and West Suffolk (mobile fees will apply) - Contact us to discuss your requirements. | |
| /// Management, Artists & Sound Engineers: Contact us to discuss your requirements. | |